You've been warned.
Met Éireann has this morning upgraded its high temperature weather advisory notice to a full-blown Status Yellow weather warning.
Posted at 8.53am this morning, the nationwide warning reads: "High temperatures continuing this week with hot conditions by day and staying very warm and humid at night. Daytime maximum temperatures generally 27 to 30 degrees Celsius with overnight values not falling below 17 to 20 degrees."
The UV index is High across the country, with parts of the south listed as Very High. That especially dangerous patch is certainly encroaching upon Cork's borders — so be sure to get the factor 50 out.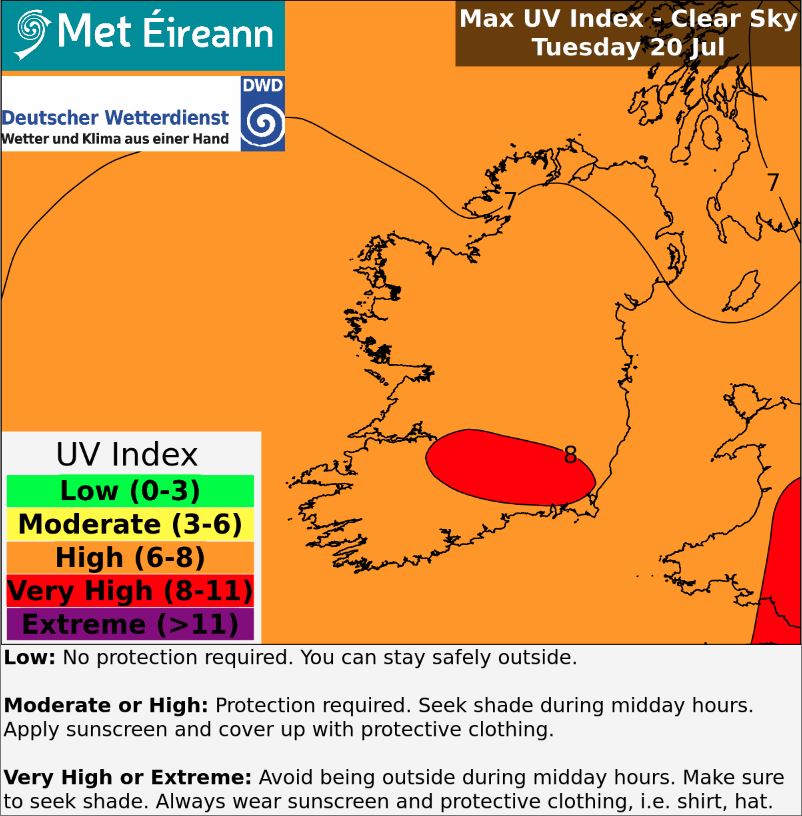 The warning will remain in effect until Friday, with the heatwave expected to break over the weekend.
Met Éireann has also published the maximum temperature reads from all of its weather stations yesterday, revealing where Cork was at its hottest on such a blistering day.
Cork's Moore Park station caught the highest temperature in the county, clocking in a 26.6 degrees. The station at Cork Airport showed highs of 23.9, while Roches Point read a maximum of 22.5 degrees on the south coast. Sherkin Island registered the lowest high in Cork, showing 21.2 degrees.
The highest temperature recorded in the entire country was in Gurteen, Co. Tipperary – which was blessed with 29 degree weather.